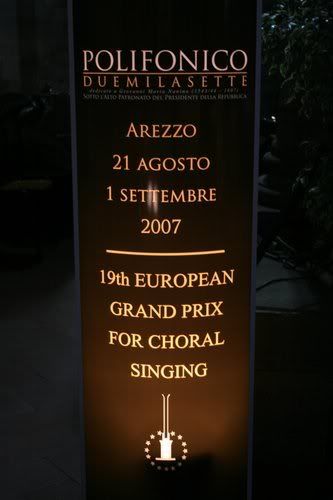 This award is called
Polifonico Deumilasette.
Philippine madrigal Singers Own this award during the 2007 European Grand Prix Held in the continent of europe, Arezzo Italy. The exact date of the event is August 27, 2007 up to September 1, 2007. Philippine madrigal Singers is the one and only Chorale Group who won 2nd time in the prestige chorale competition. Philippine madrigal Singers really offer thier talent and body for this award. They went to Europe and stay there for five months just for the preparation in the event. They held concerts and other activities in Europe for them to familiarized the place and the ambiance. The last time that they went to Arezzo Italy, Europe is in the year 1997, This is the year that they have won the 1st European Grand Prix Champion. Some of the members of the 1997 European Grand Prix is now an alimni of the Philippine madrigal Singers, and some of them are teaching in different University Choirs. One of them is Ms. Anna Tabita Abeleda Piquero, and Ms. Elsie Eranista. Ms Piquero is the choir master of the University of the East Chorale, a University who won 2nd time in the Busan Korea Chorale Competition. Ms. Eranista is the conductor of the Coro De San Sebastian and The University of Makati Chorale. Hopefully next event we will still hold the title.